u.s. merchant marine academy, kings point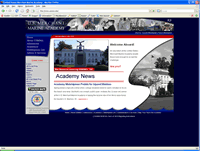 Launch Date: April 13, 2004
Work Performed: Legacy Design
Live Site: www.usmma.edu
In 2003, the nation's 5th Federal Service Academy, USMMA Kings Point, needed a redesign on its functional but visually stale layout.
We worked with IT department staff as well as a faculty committee to give the school what it was looking for. After much designing and even more typing, the site was launched in 6 months. It features a custom news section and the ability to update and edit content via Macromedia's Contribute product. While we don't create sites in this manner anymore, it is a good design example.
USMMA was the Educause Community featured site for the week of December 5, 2005.
---