inboxsolutions.com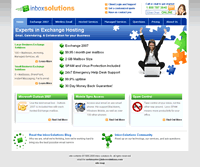 Launch Date: Sep 1, 2007
Work Performed: XHTML/CSS Design and Maintenance
Live Site: http://www.inboxsolutions.com
I spent the summer of 2007 working on the massive InboxSolutions website. We were looking for a professional, vibrant site to house all of the content needed. The site features a CMS, blog, forum, helpdesk and live chat (the latter two are from Kayako). Extensive original work was performed to create the site. Some customization was done on the Kayako products as well as the DotNetPanel software that powers the customer and admin interface. The end result is a website that is a treasure trove of keywords and phrases for search engines to index.
Future actions include more Search Engine Optimization (SEO) such as keyword tweaking and link campaigns.
InboxSolutions, in which I am a partner, is a leading, reliable provider of hosted Microsoft Exchange email and Sharepoint collaboration services. In addition, we offer a full range of hosted and managed services for every size and nature of business.
---