chartwell education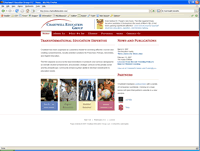 Launch Date: March 5, 2007
Work Performed: XHTML/CSS Design and Maintenance
Live Site: www.chartwelleducation.com
We've been working with Chartwell for a long time now.? It started out with a simple, 4 page site and over the last year and a half, it has grown to nearly 50 pages and been through 2 redesigns.
With this latest body of work, Chartwell gains a site that has a 'Global' look and feel with a very user-friendly interface.? The menus clearly indicate in which section of the site the user is browsing while providing flexibility in organizing the site's content.
Sails Digital also provides all the site maintenance, giving top notch, short time-frame service.

---